After months (let's be honest) years of following the blog Ruffled, I knew I wanted to personalize my wedding and add as many little DIY elements as I could. After scouring pages and pages of wedding photos, they start to blur to together… I, as many, many brides do, want this day to reflect us; to have people say "That is so them!"
One way to that is through signs. Directions, welcome banners, programs… The list goes on and on.
How cute are those?
I really wanted something unique, something different. I tried to avoid chalkboard signs, since they're all over Pinterest…
(That one's one of my all time favourites. So detailed… I could never recreate it!)
I tried white with gold painted letters, white with black letters… But nothing popped like white on a black background. Chalkboard signs are much more user friendly too… No need to write well with a paintbrush or worry about mistakes; you can simply erase it! As a bonus, I could even give out my boards to friends and family after our wedding.
I also remembered to enjoy the process, not just the result. As much as I want one (and will still continue to strive for it), a Pinterest-perfect wedding is not what it's about. I want to enjoy the planning and project-making as much as I can, and just be happy I get to marry Shaun!
I wanted something innovative, but I was frustrated. Chalkboard eventually won out, and I'm so glad it did!
There are many, many tutorials online, so let me save you some scanning time! This one will explain how to use a paint roller to create chalkboards with some extra tips from my painter-fiancé. If that's not for you, feel free to scroll down to see the end result!
What you'll need
Chalkboard paint (I used this Craftsmart one from Michael's) $6
Chalk
Bistro Chalkboard marker $7 (Note: This one writes really well but is more "semi-permanent". I'd keep looking if you'd like one that easily washes off chalkboards!)
Fine whiz (yes, that's the technical term!) paint roller. I used a "mohair whiz roller" which left a nice delicate finish.
For the sign, I used some basic 1/8th of an inch MDF from my local home depot. A 2′ by 2′ board cost me less than $2. Sold!
The Steps
I skipped priming and went straight to painting.
Chalkboard painting tip: Your surface needs to be very even (read: non-porous) to have crisp chalk lines later on. To avoid uneven patches, run over your painted surface lightly with your roller before the paint dries. You want it to look like the second image below:
I covered the entire board with one coat, let it dry for an hour, and applied a second coat.
Painter's tip: If ever you don't manage to knock it all out in one sitting, you can keep the same roller by wrapping it tightly with a plastic bag. The trick is to have the entire roller surface touching the bag so that the paint doesn't dry. Once the paint's dry, your roller is toast.
While my paint dried, I came up with a few designs for my signs.
You could certainly stencil a sign, but that takes the fun out of crafting for me. Using my drawings as a guide, I sketched out a rough draft on my board with regular chalk.
Once I was happy with the placement, I went over it with my chalkboard marker.
Like I said before, this marker is more "semi-permanent" on chalkboards. It easily erases off of smooth surfaces like mirrors and glass, but it leaves a faint trace on chalkboard.
However, it worked in my favour because it will stay on a lot better than chalk! Using chalk first and going over it in marker is like writing a sign with pencil and going over it in pen. 
From there, I lightly erased my chalk lines with some paper towel and filled in my letters with the marker. Mine is free-hand, largely based on this AWESOME free tutorial on how to "fake" calligraphy. If you love fonts like me, I HIGHLY recommend checking it out!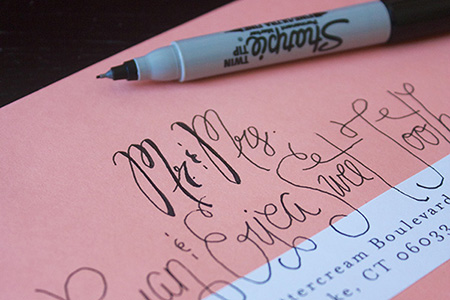 I still have a number more to do that I will be sharing with you as I go along, but for now, I'm very happy with how these two turned out!
I wasn't sure about this one since Shaun thought it was a bit much, but my girlfriends have since convinced me to keep it. What do you think? 
So there you have it! My first couple homemade signs for our wedding. Of course they're not quite as nice in our living room as they will be at our wedding, but one needs vision, right?
How do you feel about chalkboard signs? I resisted for a while, but I gotta say, they're perfect for this. Are they old news for you? Or do you still love them just as much as I do?
Update: Here's how they looked on our wedding day!